Amaan Dhanani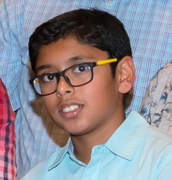 It is recomended that you put your device in Landscape Mode while viewing this website!
If the confetti background is somewhat distracting, then you can press the button below to remove the background!
My Domino and Video Editing Talent
My name is Amaan Dhanani, and I'd like to introduce myself. I'm a 14-year-old student at Highland Springs High School. But I'd like to tell you a story. Have you ever had the desire to do something on your own, such as demonstrating your talent to people who were unaware of it? That began for me when I was a small child, eager to try new things but unsure of what to do. Everything started when I discovered dominoes. At the time, I was four years old and used to play with videotapes and cassettes. I stacked them vertically next to each other and eventually toppled them. One day, my mother once told me that some people make a living doing the same thing. I was shocked! As I grew older, I began to watch videos by Hevesh5, a YouTuber that would make fascinating videos about domino chain reactions. Hevesh5 would stack domino blocks vertically one on top of the other, creating massive lines of dominoes with massive structures and chain reactions before toppling them, much like I did with videotapes and cassettes. I was inspired to make some projects after seeing those videos daily. I used to play dominoes as a kid with a set of dominoes. But at that time, I decided to take dominoes to a new level at home. I already had a few domino sets and a Jenga set, but it wasn't enough. I wanted to show off my talent by creating large-scale works of art. Because my family brought so many dominoes, I ended up with long and spectacular chain reaction works. I wasn't as inventive as I could have been, and I kept using the same methods. I watched some Hevesh5 tutorials and experimented for a while, eventually becoming much better. In my community, there were events and talent shows, so I decided to make my videos and submit them to those programs. Here's where it gets interesting. I enjoyed making videos with special effects as well as dominoes! To get the word out about my talent, I used a variety of video editing software. My hard work paid off when I came third place in a competition. My new passion was to be able to record myself performing. After experimenting with it, I included slow-motion, reverse, and other special effect transitions between different moments in my domino creation videos. I was so happy that editing videos were my interest! Everyone eventually began to enjoy my videos, and some are curious as to what I did to achieve this goal. I now help my friend edit his videos for certain projects. I was mentioned in talent shows and programs, but everything has slowed down due to Covid. I've been bored, and I don't have the same sense of fun that I used to. Please watch the video below to see some of the domino work I do. I didn't include all of my artwork because most of them are videos that I'm having trouble compressing or something, and I didn't have time to include an alternative. My Road Discoveries I also have a great interest in roads. When I was young, I remember looking at road signs on the road wondering where they would take you. Once I went to new places, I would always remember the roads I visited. When the GPS would not work and start acting up, I would help out by leading the way, because I would remember the roads nearby. Years passed and I was growing up. and I enjoyed looking at Google Maps to see where major roads lead to. I was shocked to see how much I could. I starting reasearching about state route number signs and I evenutaully figured out the main roads in Virginia. But due to some concerns, there are many roads out there that are being abandoned during construction because of environmental and property concerns and for other reasons as well. Below are my road discoveries, so please look at the multiple pieces of information.

Nuckols Road, Glen Allen, Virginia




Nuckols Road is an important road that connects important routes such as
Springfield Road

Pouncey Tract Road
In the picture, this is a view of Nuckols Road prvided to us by Google Maps. Additional editing was
done by Amaan Dhanani.
Many people trvael on Nuckols Road to go to work, because there are many office buildings. This road is also very important because it can provide direct access to Interstate 295, a highway that goes for 52.75 miles and has access to Interstate 64 and also Interstate 95. This road is very useful but there is one problem. Nuckols Road is a useful road, but at the junction of Springfield Road and Nuckols Road, Nuckols Road extends lanes to the right and left, but it has a rapid dead end, making it a weird traffic pattern.
Fort McHenry Pkwy, Glen Allen, Virginia
Fort HcHenry Pkwy
Interstate 295 / State Route 288
.
State Route 895