Amaan Dhanani's Coded Games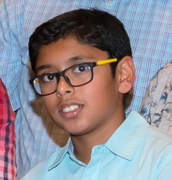 9/16/2008 - present
(as of 2022)
It is recomended that you put your device in Landscape Mode while viewing this website!
If the confetti background is somewhat distracting, then you can press the button below to remove the background!
Wizard Run
This was a game that I created in 8th grad e. The code was fun to create! Note: I found an online template with the code for characters done for me and even the first level and background were there as well, so I used that and create, but the 2nd, 3rd, 4th levels on my own. I wanted to create more levels, but I never got the chance because I had to continue with school!
Directions: Use the right/left arrows and the space bar to control the wizard and get to the key. Don't hit the dragons or green blocks or even wooden blocks!

Hints: You can go off the screen on level 3 to try the level. There might be fake objects in level 3 to trick you! In level 2, watch out for the dragons' wings. They may appear to be futher from you but they are not, so jump when crossing the stone bricks! Level 4 is like an atari game and the key is very small in the level!
Visit Amaan Dhanani's Wizard Run!
Monster Maze
This was another game that I created in 8th grade. Note: I found an online template with the code with the character design and some sounds done for me but the rest was on my own. This game is very easy, and read the directions on the screen before playing.
Visit Amaan Dhanani's Monster Maze!
The Amaan Dhanani TANKS Game!
This is a game that I had created on my own, but I got the pictures from somewhere else! Just letting you know if to rotate the tanks near a wall, it might bounce off. This is a bug with no fix, othervise it's awesome! Make sure to read the instuctions.